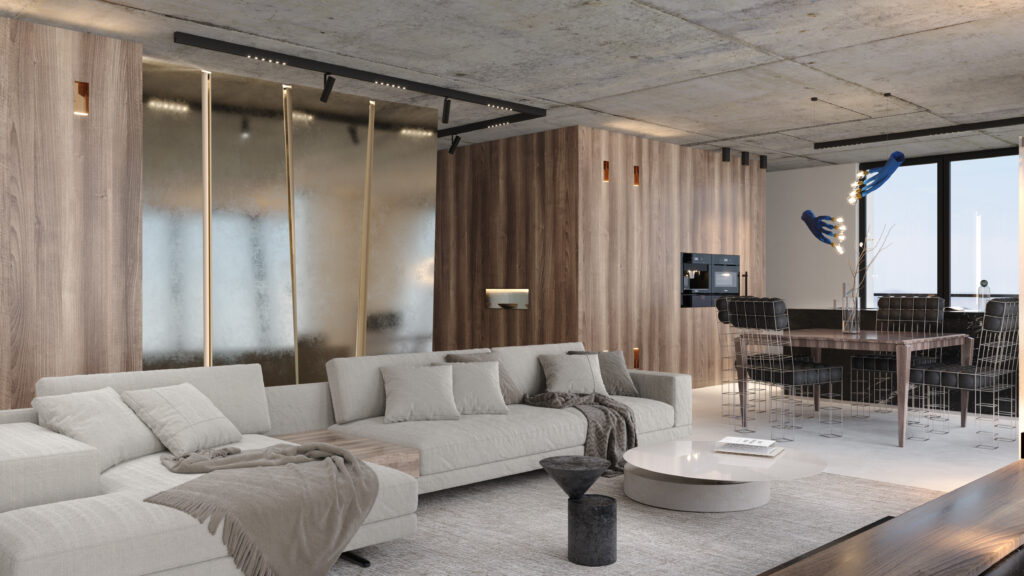 Modern interior designer Warsaw.
Beautiful, tastefully decorated interior is a true praise of aesthetics. Rich, yet balanced stucco, properly cut stone, polished countertops – these are timeless elements. A designer of modern interiors must also perceive the unique beauty of the space, which at the initial stage of work exists only in the form of a project. Our extensive experience in designing interiors in Warsaw has taught us how to bring a vision to life so that it becomes a reality. This reality consists of the highest quality materials combined in well-thought-out solutions that simply work. Let's meet over a good coffee, and the individual project will quickly start to take shape in our minds from the very beginning.
Timeless aesthetics – modern interiors, Warsaw.
The styles in which one can currently furnish an interior are an extremely wide range of options that differ from each other in practically everything, from the dominant color scheme, through the type and arrangement of accessories, to the choice of furniture. Fashion changes very quickly, but an experienced designer of modern interiors in Warsaw should know that sometimes well-known solutions work best. During subsequent collaborations, we find ways to incorporate the well-known tradition of interior design into modern frameworks. Each of our modern interior designers is able to work on the renovation of interiors also in traditional buildings, such as centuries-old tenement houses. We know perfectly well that combining the past and modernity is possible. Not everyone is able to make this connection in such a way that the effect is exceptional. Our references clearly confirm that over the years of active work on modern interiors in Warsaw, we have gained such skills, while fulfilling many dreams and desires for a practically perfect interior. We are fully prepared for new challenges, in which we will rediscover the beauty of unique interiors.
Working with an experienced modern interior designer in Warsaw.
To those who are not familiar with the industry, it's hard to imagine how many artistic possibilities come with designing a modern interior. Warsaw is a city where this style works particularly well. Stylish apartments furnished in accordance with modern aesthetics simultaneously refer to the energy of the home hearth. In the modern interiors designed by our interior designers in Warsaw, there is no shortage of ways to use well-known natural materials such as wood. When combined with appropriate accessories, they create a unique cozy atmosphere that makes you simply want to come back to such a place. We look back at our best modern interior designs by looking at our completed works – they are available in the "Interior Design Projects" tab in the top menu.
Extraordinary craftsmanship, modern interiors – Warsaw.
Modern interiors in Warsaw don't have to be cold and unfriendly. This is a misconception that often stems from poorly prepared designs. The experience of each of our interior designers in Warsaw allows us to break this pattern. By using natural materials, we can uniquely combine well-known tradition with intriguing modernity. We create with passion, we design interiors with soul.