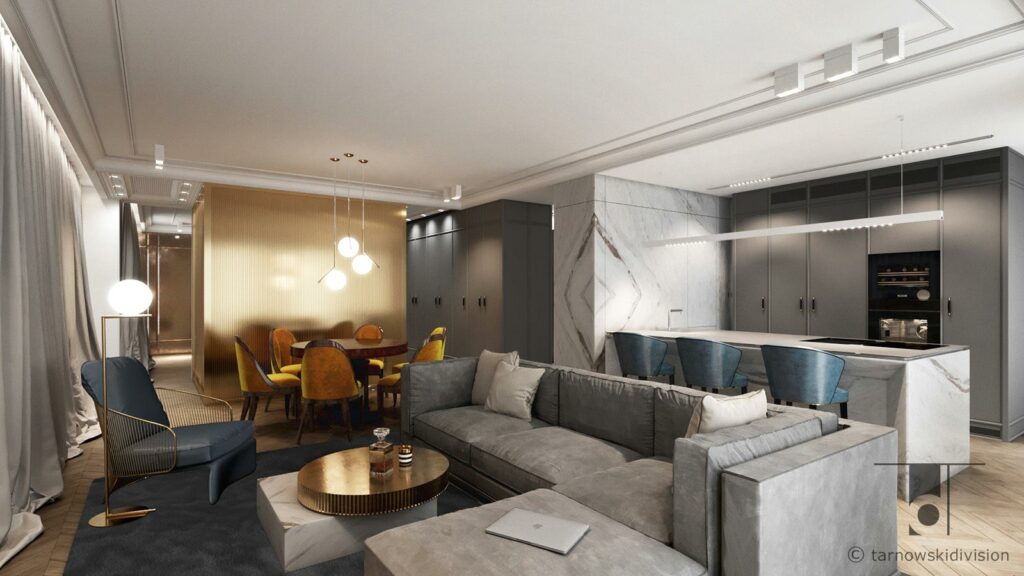 Apartment arrangement in Warsaw – apartment design.
Today, we are increasingly noticing how various environmental factors affect our well-being, productivity at work, and quality of rest. Especially in the capital city, where life moves quickly, loudly, and crowdedly, we need a place that will truly be ours – calm, secluded, and spacious, while at the same time perfectly fitting our tastes and tailored to our needs. Our team of creative specialists has already completed many apartment projects in Warsaw that have met all these criteria at once.
Timeless and unique apartment design – Warsaw.
The members of our team are characterized by professionalism that comes from experience. It is precisely this experience that has taught us how to create timeless and perfectly tailored apartment arrangements in Warsaw to the preferences and needs of a given individual or family. We do not follow the rapidly changing fashion, but we pick out the best from it, creating combinations of colors, textures, patterns, and shapes that will never go out of style. When creating a project for an apartment in Warsaw, we skillfully combine classic and universal solutions with modern ones, sometimes incorporating extravagant elements. We believe that every interior can be exceptional – it is just a matter of utilizing its potential well. For us, this is possible thanks to our rich knowledge and 20 years of experience. Through our passion for details, we make them unique, and furthermore, it resonates in our focus on quality and durability – without exception.
How is a unique apartment arrangement created? Warsaw.
When creating interior designs for apartments in Warsaw, we keep in mind the individuality of each person, which is why every cooperation is based on communication – we want to get to know their needs, preferences, lifestyle, and vision because we strongly believe that the interior should be both beautiful and functional. Regardless of the type and size of the property, we strive to make the apartment design in Warsaw perfectly refined in every detail – we won't rest until it is fully approved. From experience, we know that it is worth investing in accessories and furniture that are not only durable and functional but also have an original soul. We are not afraid of any style or aesthetics – we successfully arrange apartments in Warsaw in the spirit of art deco, French, eclectic, and more. We always find optimal solutions, which makes the interiors created by us memorable.
Why should you entrust your apartment design project in Warsaw to us?
The strength of each of our apartment projects in Warsaw lies in the collaboration of a team of architects and designers who are full of dedication, creativity, and above all, passion for what they do. We prepare the project in the form of numerous visualizations, and sometimes also animations, so that every aspect is perfectly visible. We create them to be meticulously refined, and then hand them over to a professional finishing team that guarantees the highest standards and exceptional quality. Our collaboration with artists and craftsmen always results in original items that stand out with unconventional details. Each apartment design in Warsaw that we create is a fusion of creativity, technical knowledge, aesthetic and light sensitivity, passion, dedication, and precision – a mix that allows us to always rise to the occasion.