Tarnowski Division – classic and modern bathrooms, luxury bathroom designs, exclusive bathrooms, extravagant bathroom, luxurious bathing room, exclusive bathing lounge, bathroom interior design, stylish elegant bathroom, wooden bathtub, bathroom arrangement, wood in the bathroom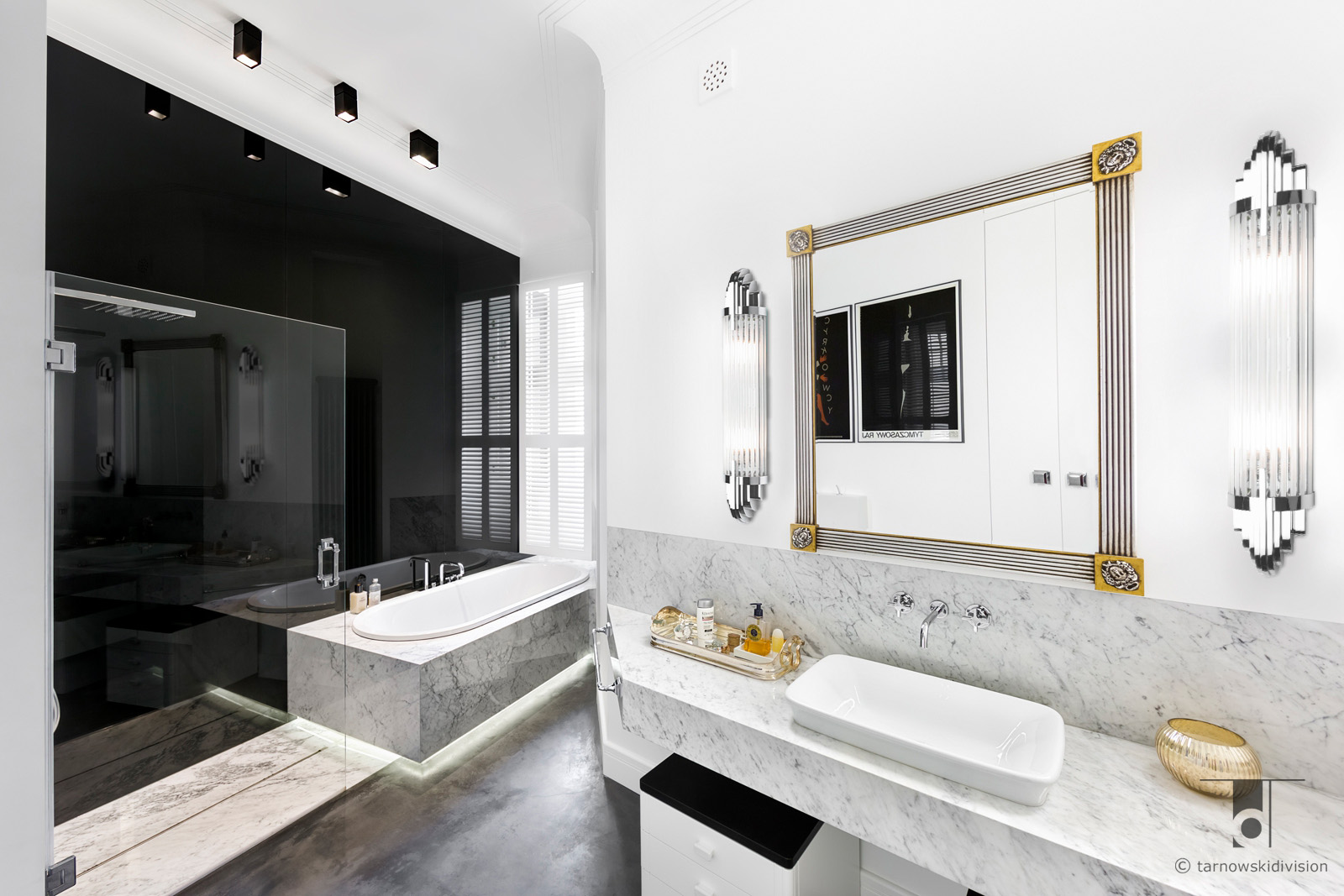 Good design has always been associated with bathroom design. Every year we visit the renowned bathroom trade fairs in Bologna or Milan. We know what are the current trends in bathroom design and what products are worth our attention. We can distinguish between faucets, which are pretty and high quality from those that are just pretty. Fitting out a bathroom is usually connected with high costs and burden on the budget. Therefore, in our opinion it is a good idea to invest in good quality products. Products that will work trouble-free for years.
Please find attached selected bathroom realizations and projects. A stylish bathroom in which we have combined classic elements with modern solutions. We have combined here the timeless Carrara marble with raw concrete on the floor and black lacquered glass on the wall.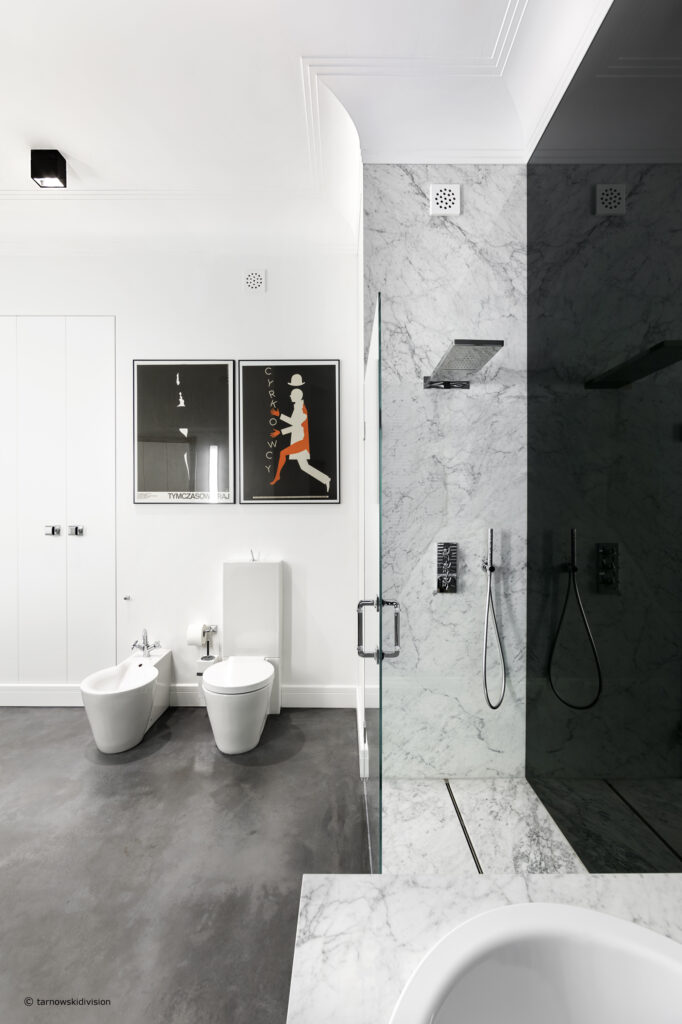 A similar strong contrast can be seen in the two small but luxurious bathrooms. In one, all the walls and the washbasin are made of carrara marble, the floor is decorated with terrazzo and the whole thing is reflected like in a mirror in a stretch ceiling made of shiny black barrisol.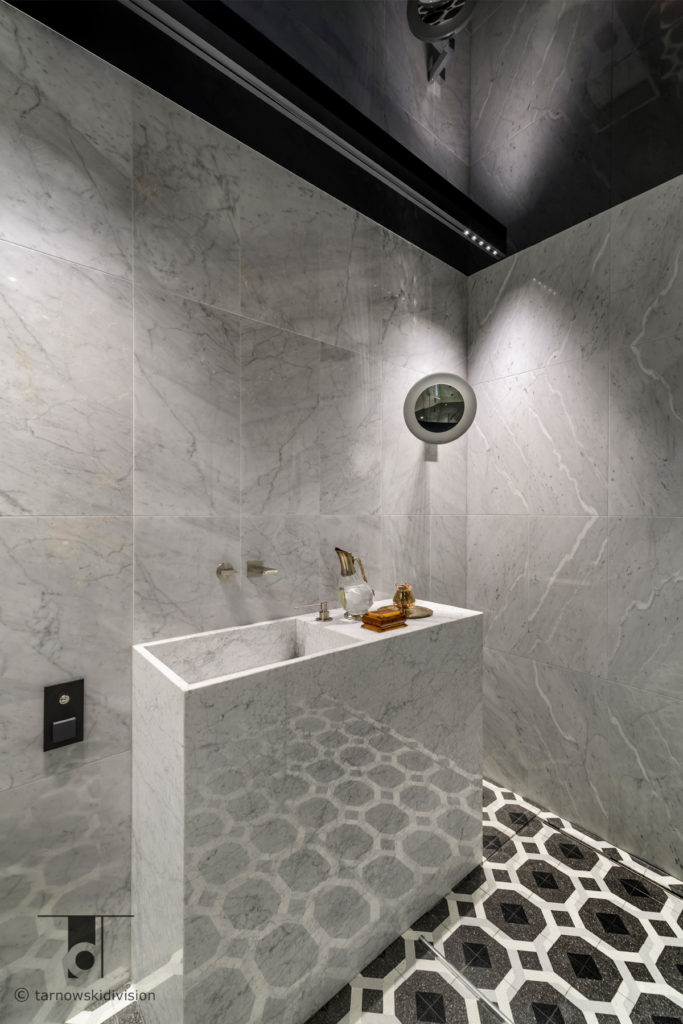 In the second bathroom, the walls are covered with black glass, the ceiling is made of black barrisol, while the floor and the washbasin are made of beautiful bianco lasa macchia vecchia marble.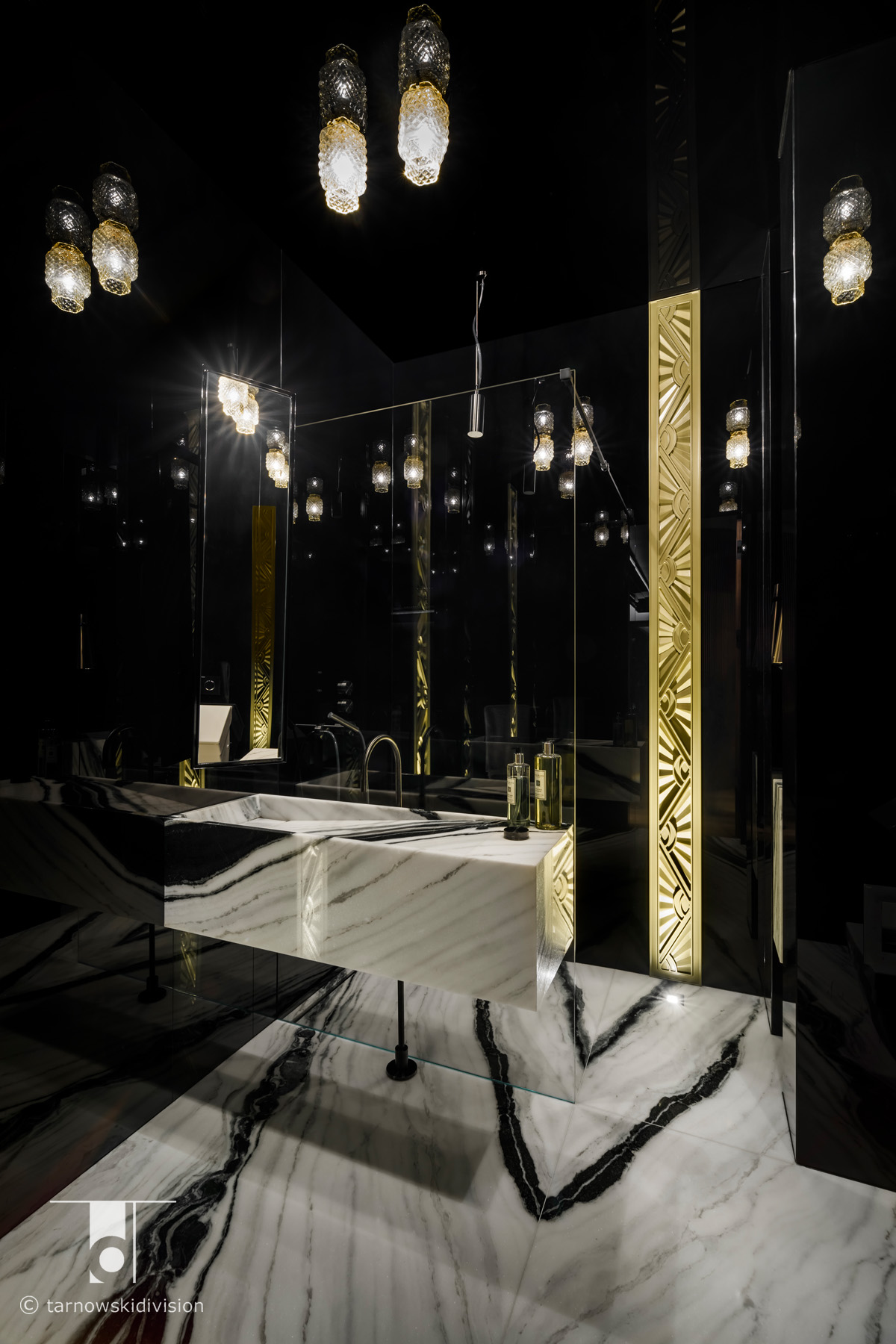 The luxurious bathing salon in a tenement house from the 1930s was divided into two zones. In the first, bright zone, the walls and ceiling are finished with subtle stucco. For the countertop, washbasin and floor, we chose the noble statuario marble. The second zone, the so-called bathing area, with a huge black bathtub and shower, is in dark colors. Nero marquina marble blends beautifully with Roman blinds with an intriguing art deco pattern. We chose the lighting in the style of the 1930s from the Atelier 1925 collection.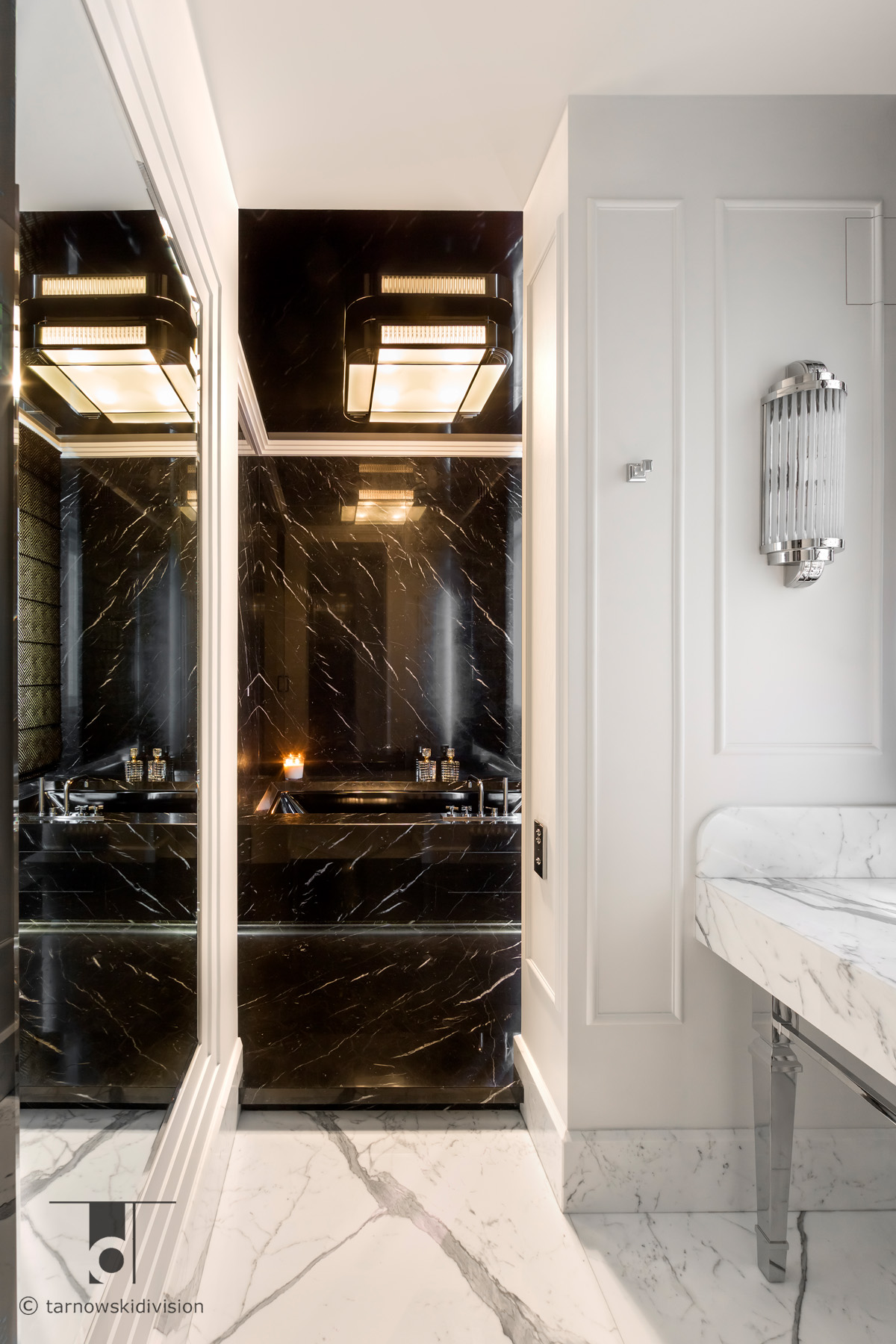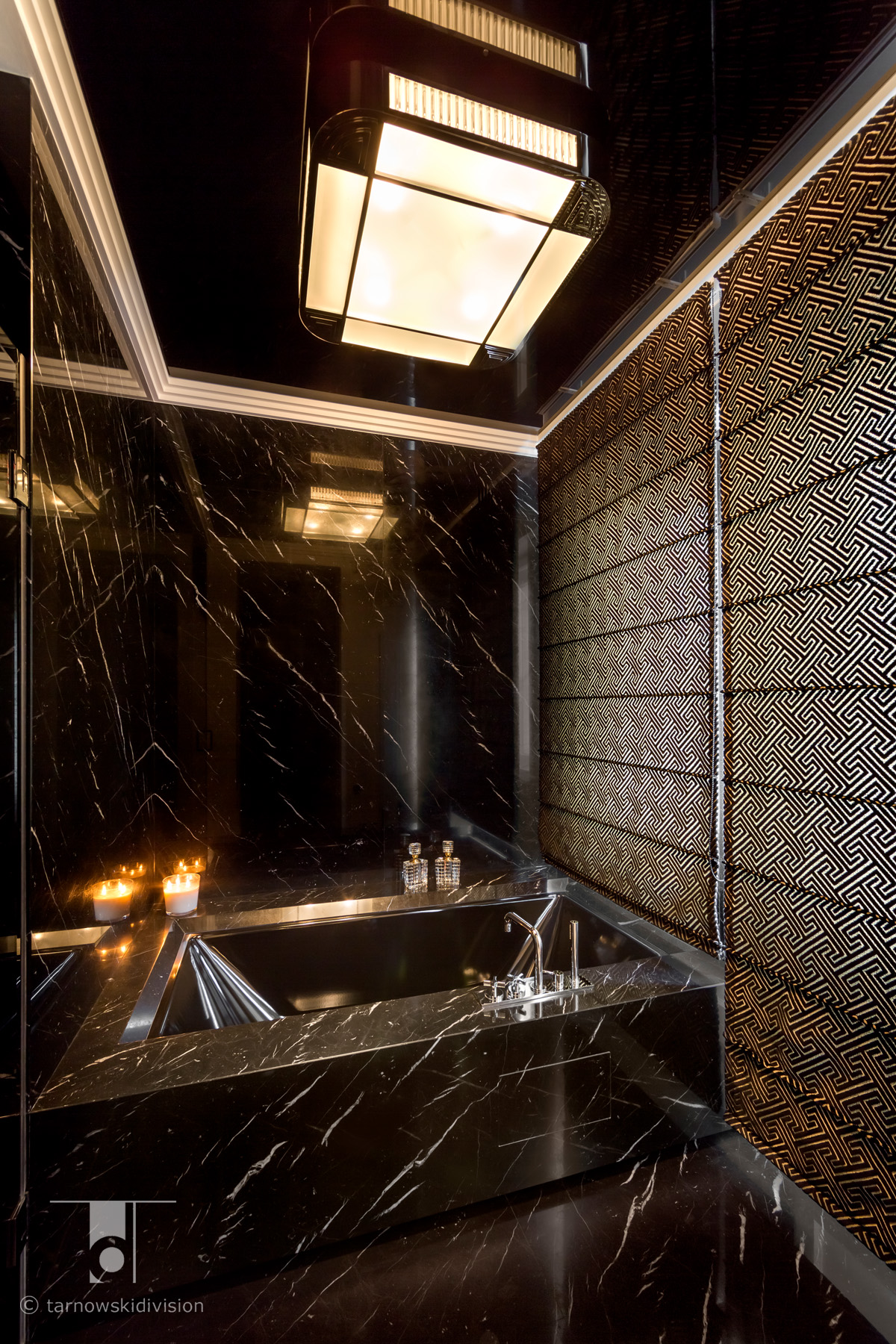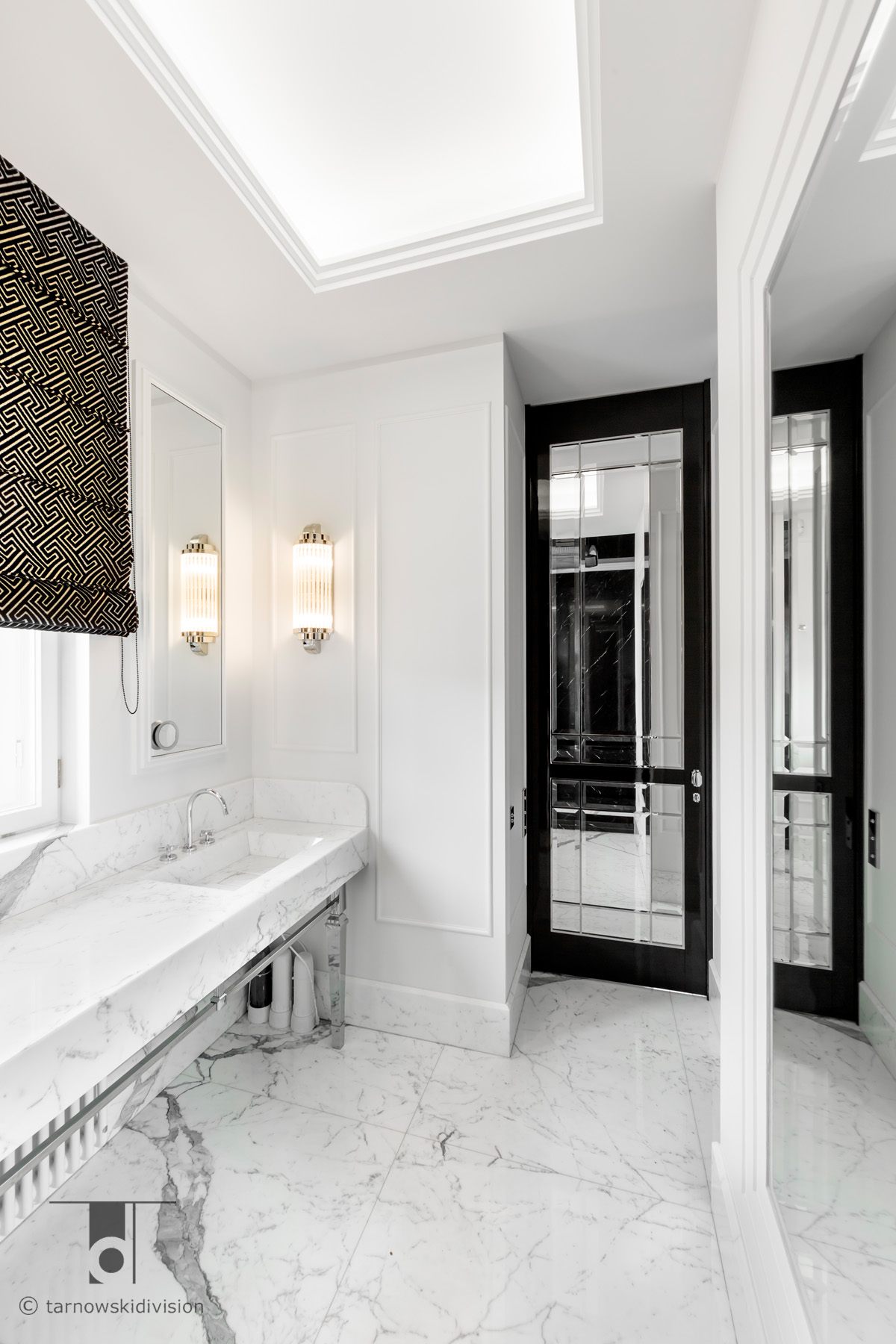 We used similar finishing materials in the design of a small but elegant bathroom in Warsaw's Powiśle. We have combined beautiful sahara noir and statuario marbles with antiqued mirrors, a decorative curtain and a glossy white ceiling.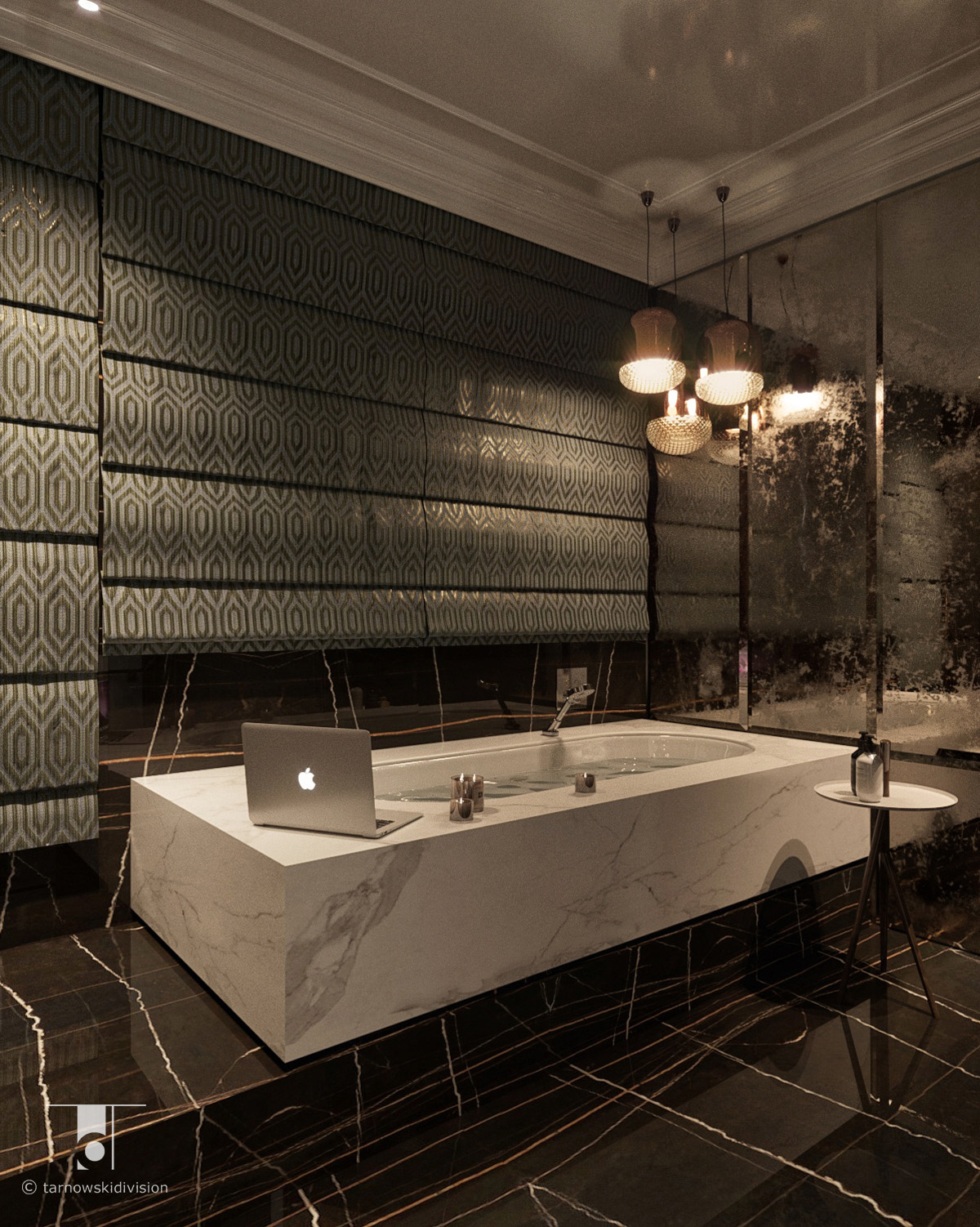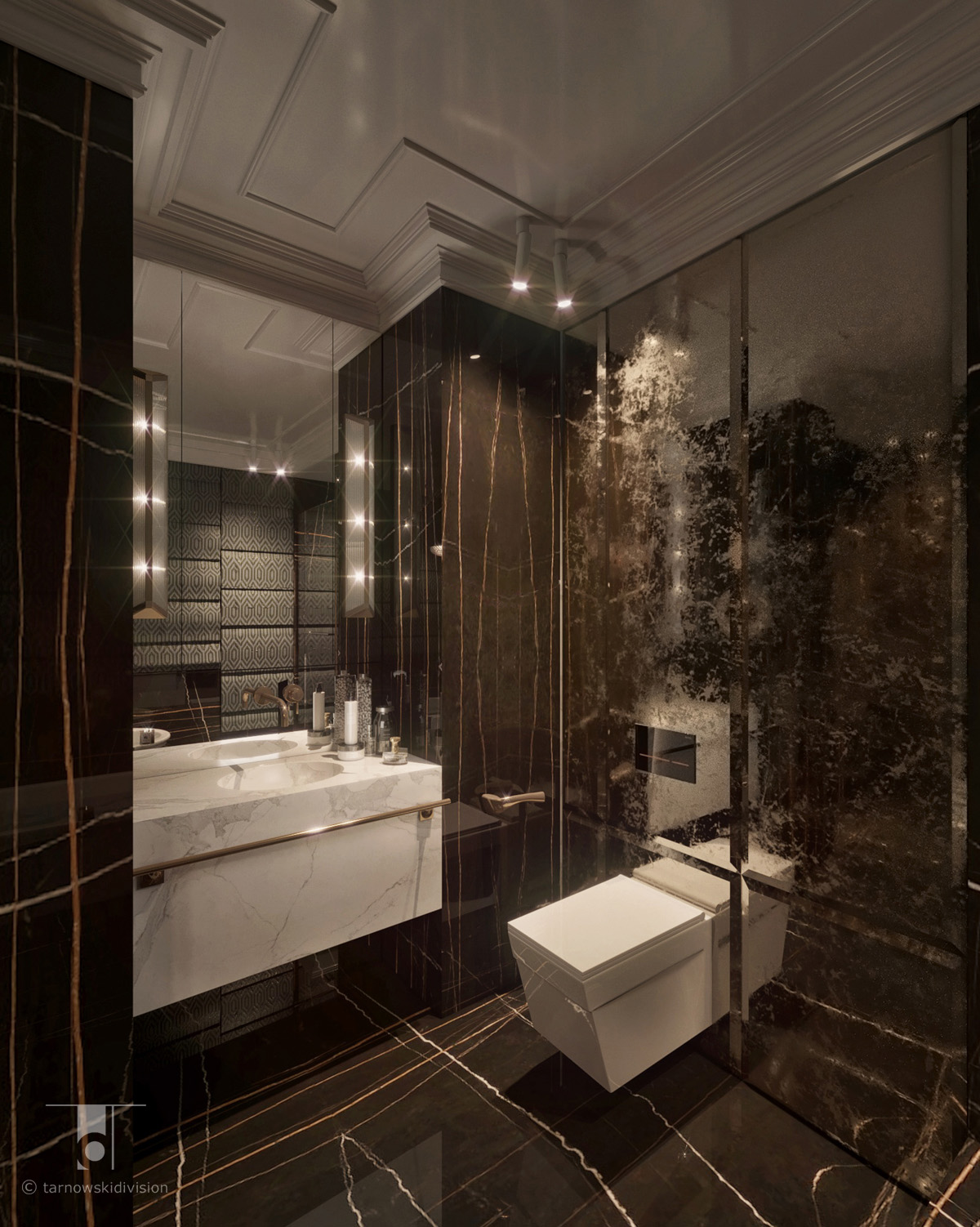 The next projects are stylish and elegant bathing rooms in a classic convention intended for apartments in historic tenement houses. A characteristic feature of these luxurious bathing salons is the combination of antique stucco with noble, natural finishing materials such as marble, oak mosaic, old antique brick or antiqued mirrors. Larger space encourages a more free arrangement of the interior. The elegant free-standing bathtub becomes a daily bread here.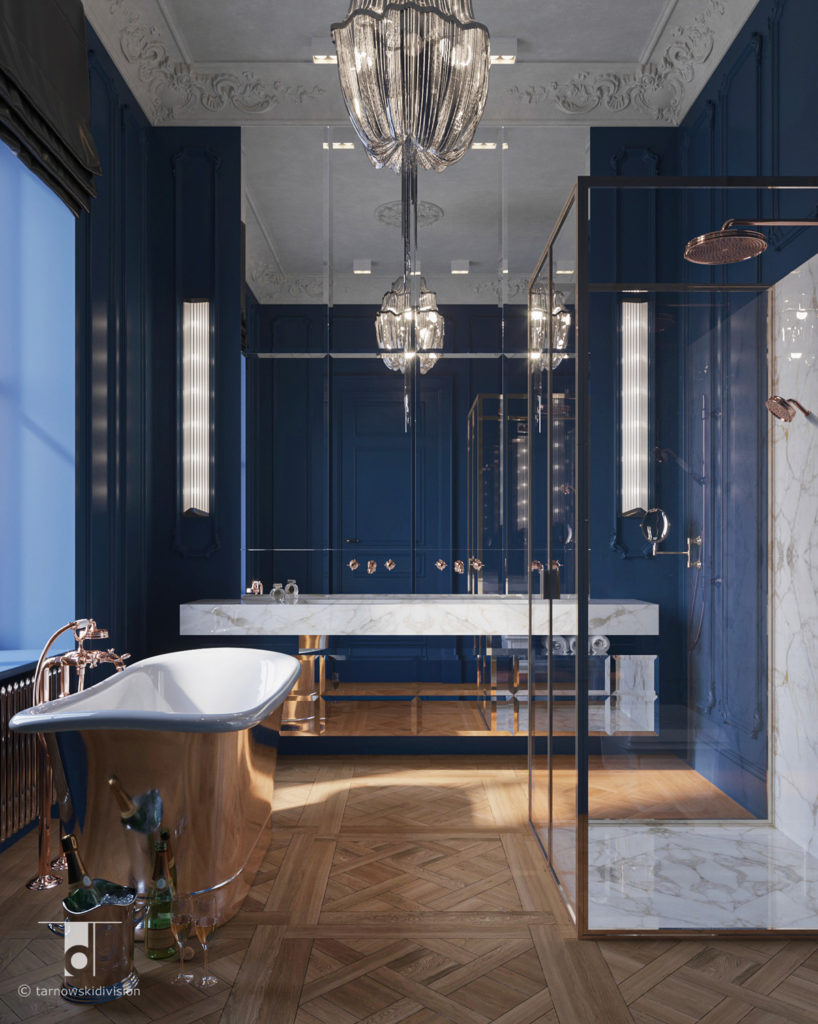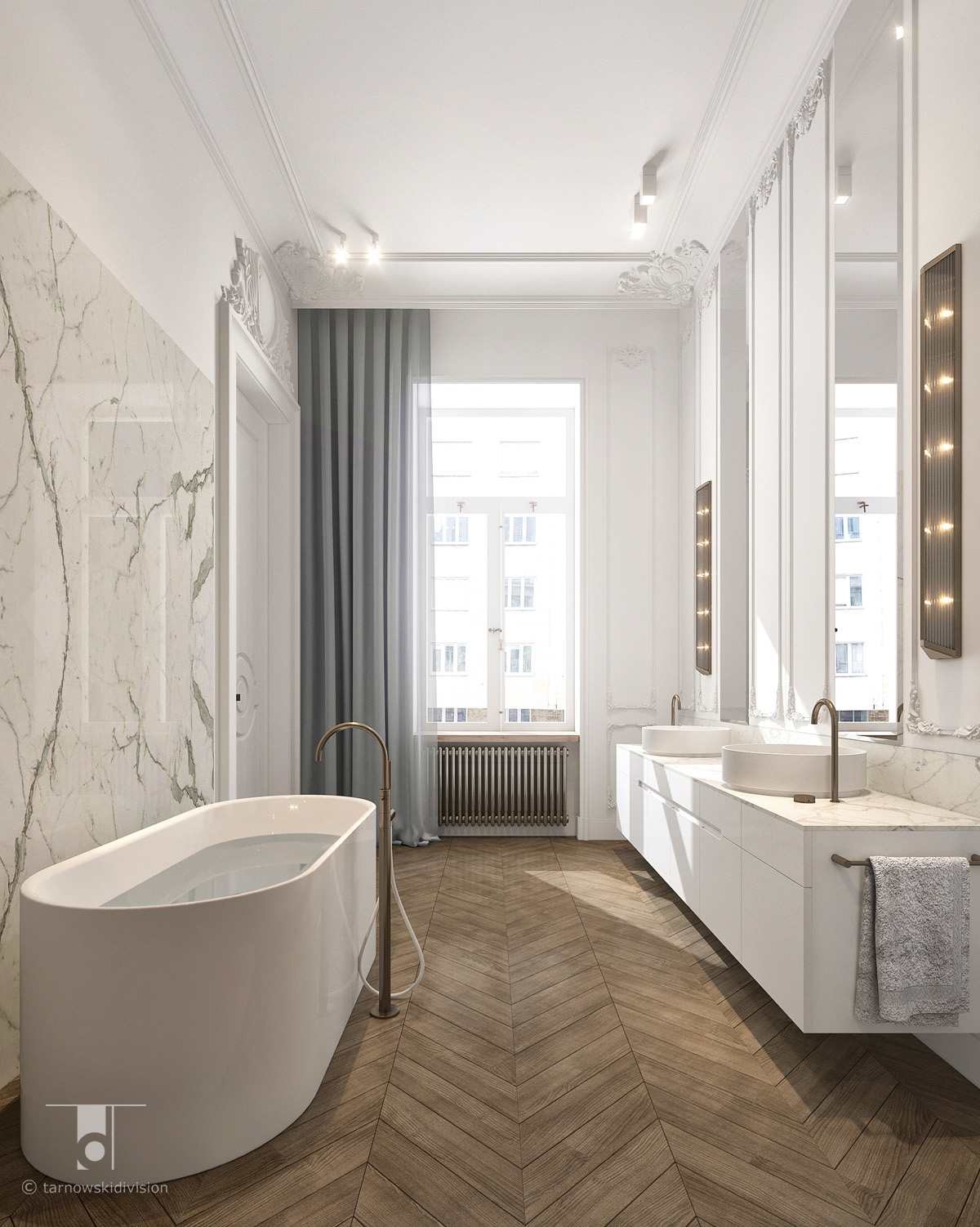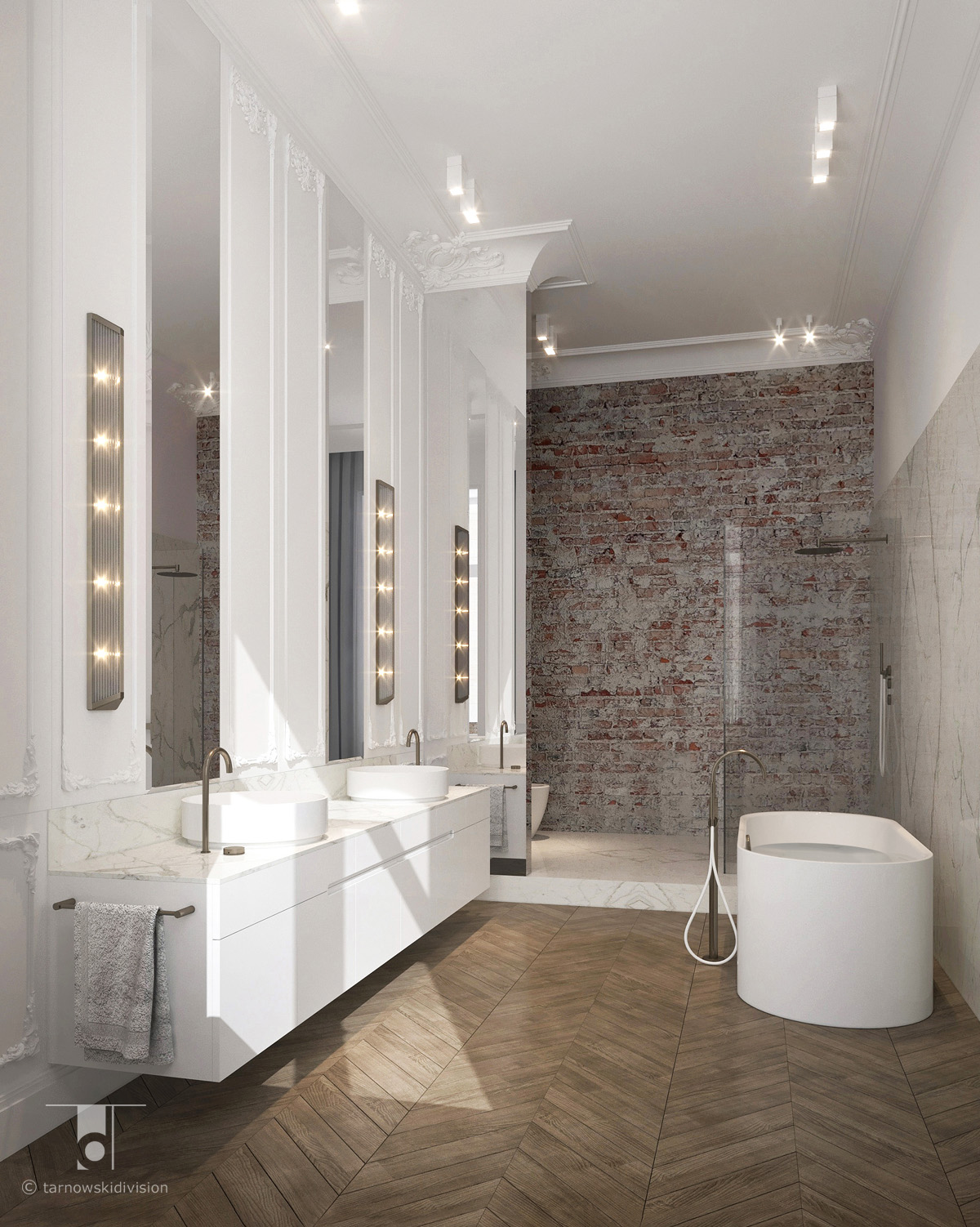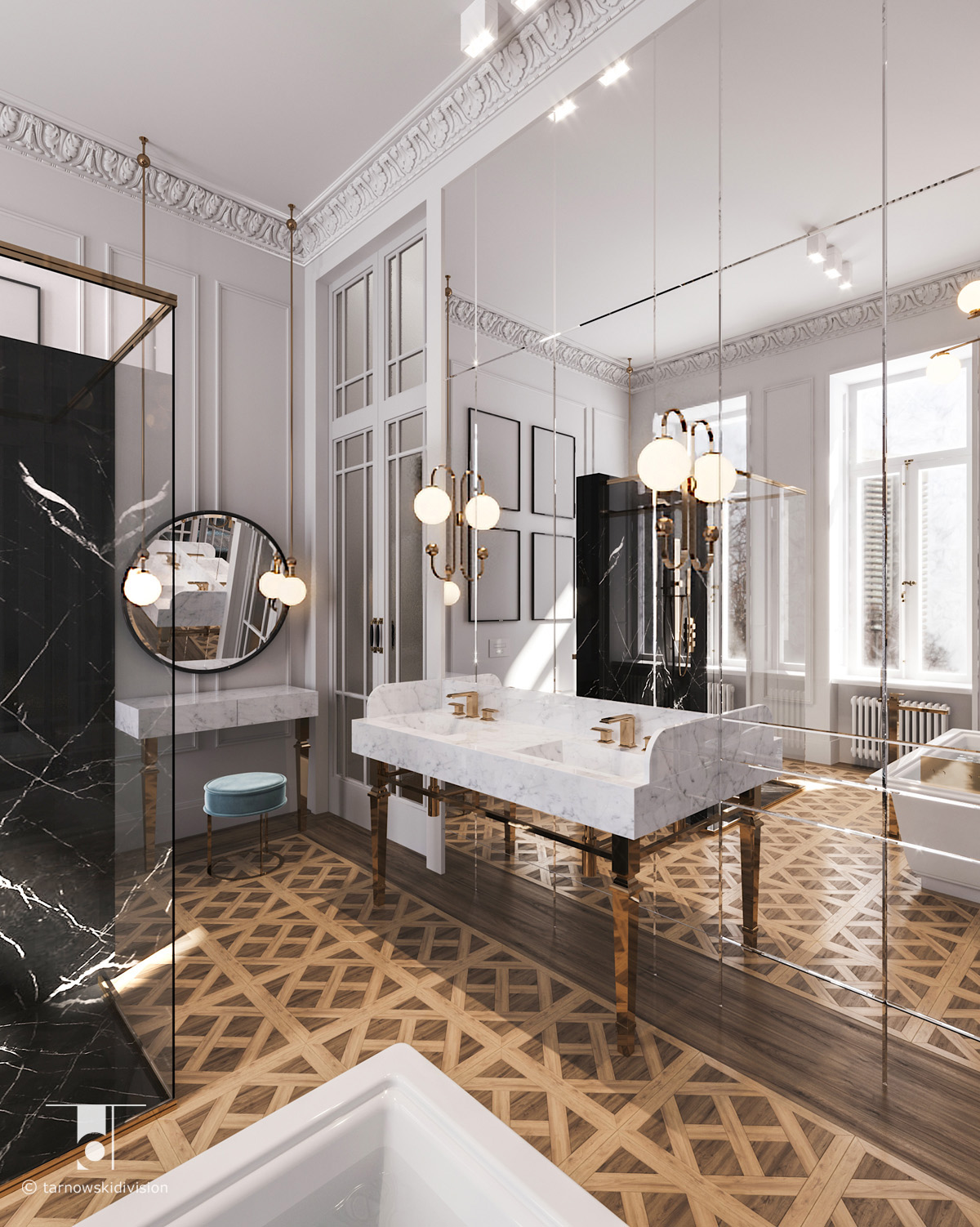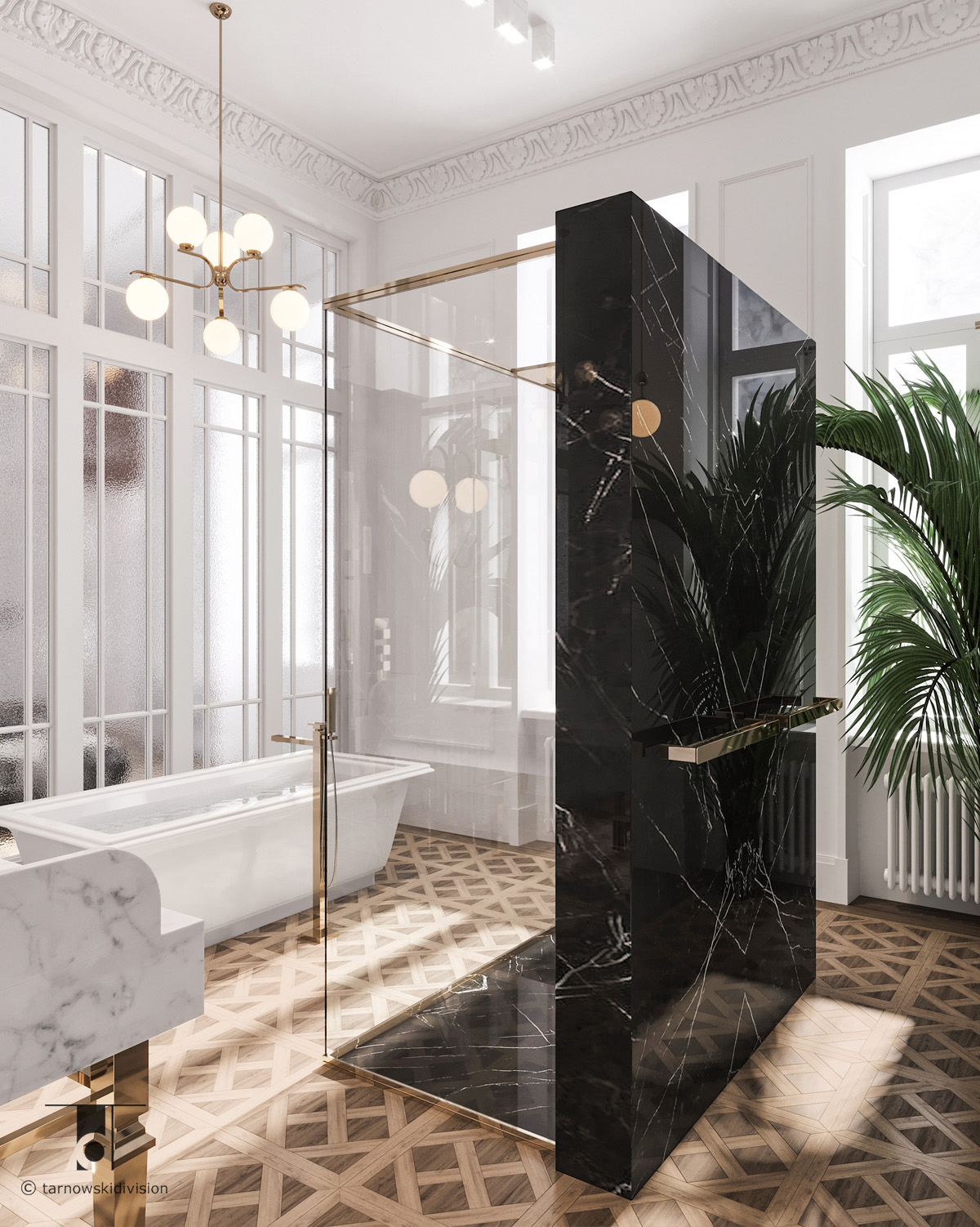 A modern bathroom can also be very elegant. The next photo shows a luxurious bathroom in a modern apartment building. The unique black and gold stone from the Antolini collection is a strong background for a minimalist bathtub, a washbasin with a cabinet and economical bathroom faucets.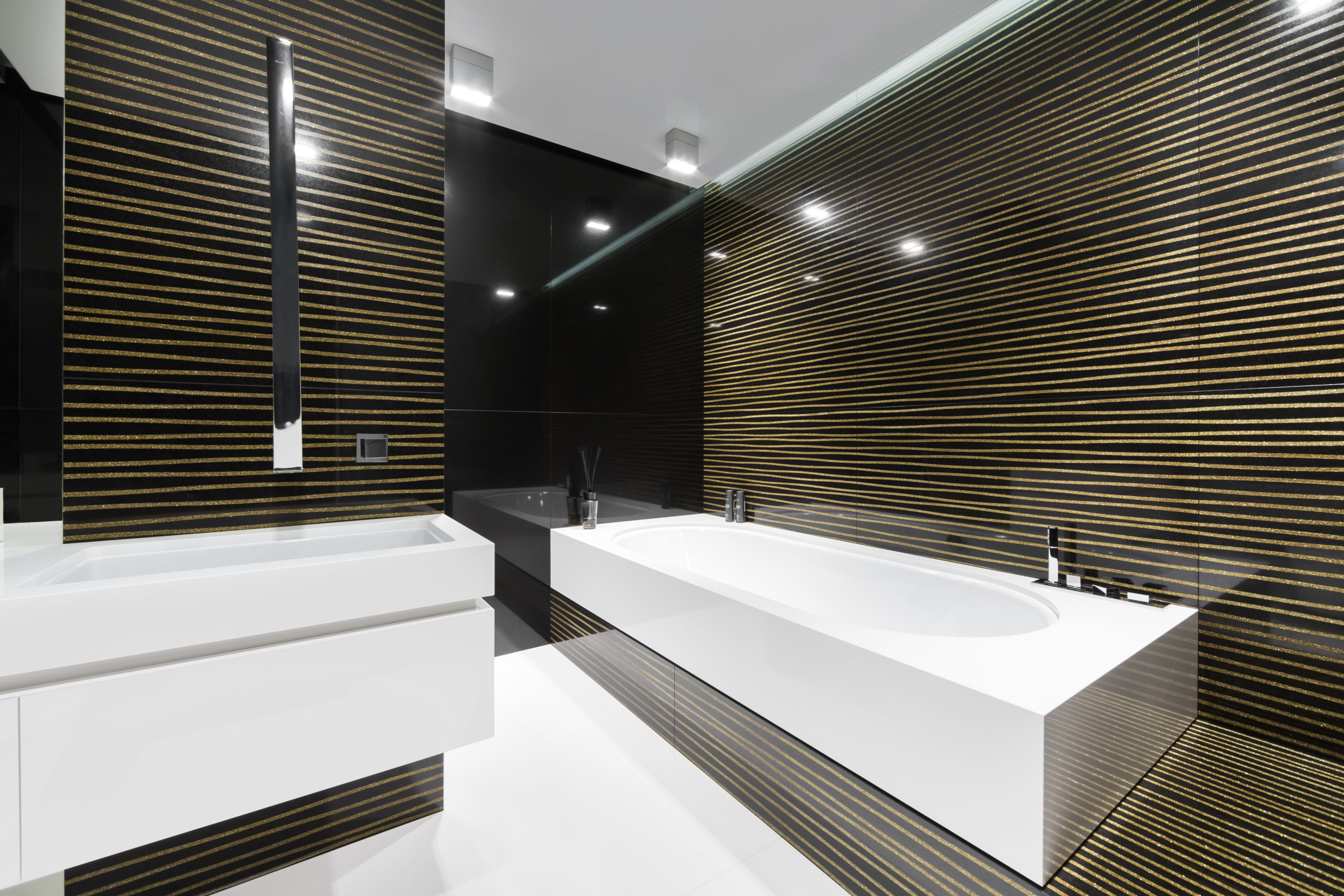 A small, extravagant bathroom connected with a bedroom is another modern implementation in a building from the 1950s. Strong colors are the main elements of this unusual bathroom – lime, red rust, gray, white and black. For this composition, we used stained glass, copper sheet, concrete with imprinted formwork and a curtain with an intriguing motif characteristic of the design of the mid-twentieth century. The interior design of this unusual bathroom was designed and implemented by Sz. Tarnowski and M. Tryc.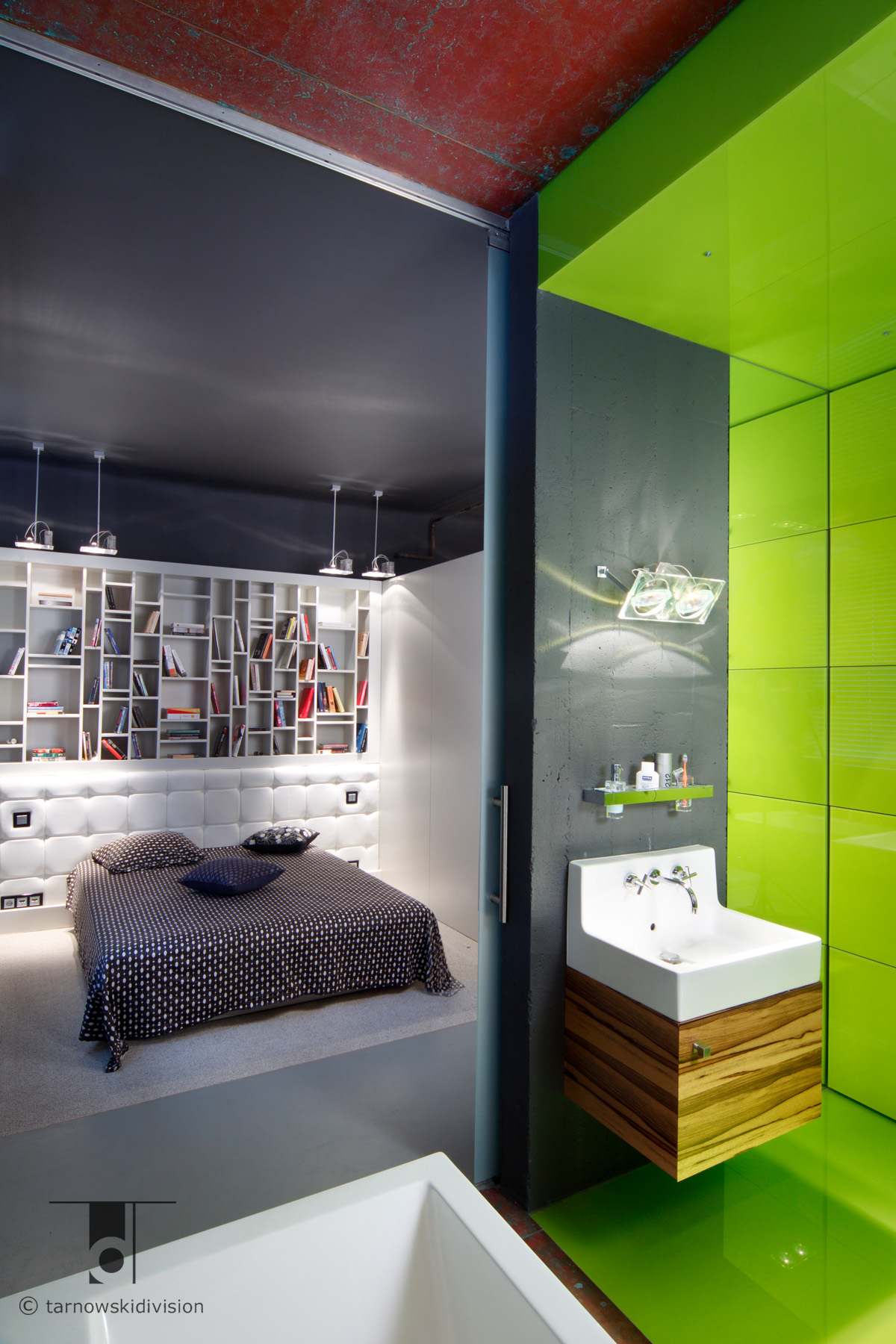 Wood as an essential, if not the most important element in a bathroom. Interior designs of bathrooms and bathing salons with the use of this natural material are shown in the following photos. The interiors of these modern bathrooms have been arranged in apartments located in buildings with modern architecture.